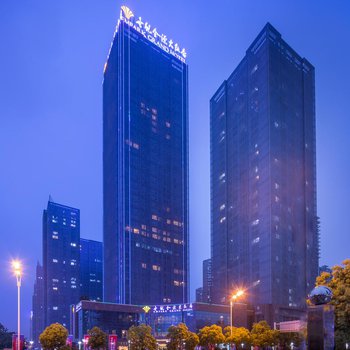 Located in Binhu New District, Empark Grand Hotel Anhui is adjacent to Chao Lake, the Memorial of the Yangtze River Crossing Campaign, Binhu Wetland Forest Park, Anhui Art Museum, and Wanda Theme Park, Water Park and Movie Park. Jinyuan Times Shopping Center and the Hefei South High-speed Railway Station is nearby.
The hotel has 45 floors with a total construction area of 100,000 square meters. It has more than 600 rooms of various types, all of which are larger than 52 square meters. The rooms are spacious and bright with French windows, creating a luxurious experience for guests. There is also a 2,000-square-meter, 10-meter-high pillar-less banquet hall designed for a thousand people, 13 meeting rooms with different specifications, and nearly 500 parking spaces, which makes it the best choice for business meetings, social banquets and theme parties.
The hotel has the Yujing Ting lobby bar and three restaurants with different styles. Huijingge Buffet Restaurant provides guests with a selection of cuisines from various places, such as Anhui's local soup and Beijing's roast duck, giving all guests an unforgettable dining experience. Golden Century Chinese Restaurant has a noble and elegant style, and mainly serves Anhui and Cantonese cuisine, supplemented by Hunan dishes. It also has a number of elegant VIP boxes for guests. If you want to try some exotic flavors, don't miss the Japanese restaurant. The cozy area of the Yujing Ting Lobby Bar is a good place for friends and family get-togethers, business talks or a post-dinner drink.
The newly-renovated and upgraded Taiguan Century SPA offers services including massages, beauty and various spas. Close to the spa area, the hotel has a newly-upgraded gym and an international standard temperature-controlled swimming pool, providing guests with relaxation and tranquility.